DialMyCalls Is Available On Android & iOS Mobile Devices
Customers of DialMyCalls can utilize the power of our voice and sms broadcasting service from anywhere. iOS and Android users can download our brand new mobile apps that are now available on iTunes and the Google Play Store - both apps are free to download. Version 3.0 of our Android and iOS apps come with a plethora of new features which include: a completely streamlined user interface, in-app purchasing, detailed voice and sms broadcast reports, reduced load times, the ability to record a message using your phone's microphone, and other minor bug fixes that appeared previous versions of the app.
Login To An Existing Account Or Create A New Account: Once installed on your mobile device you are able to open the DialMyCalls mobile app and either log in to your account or create an account if you are a brand new user.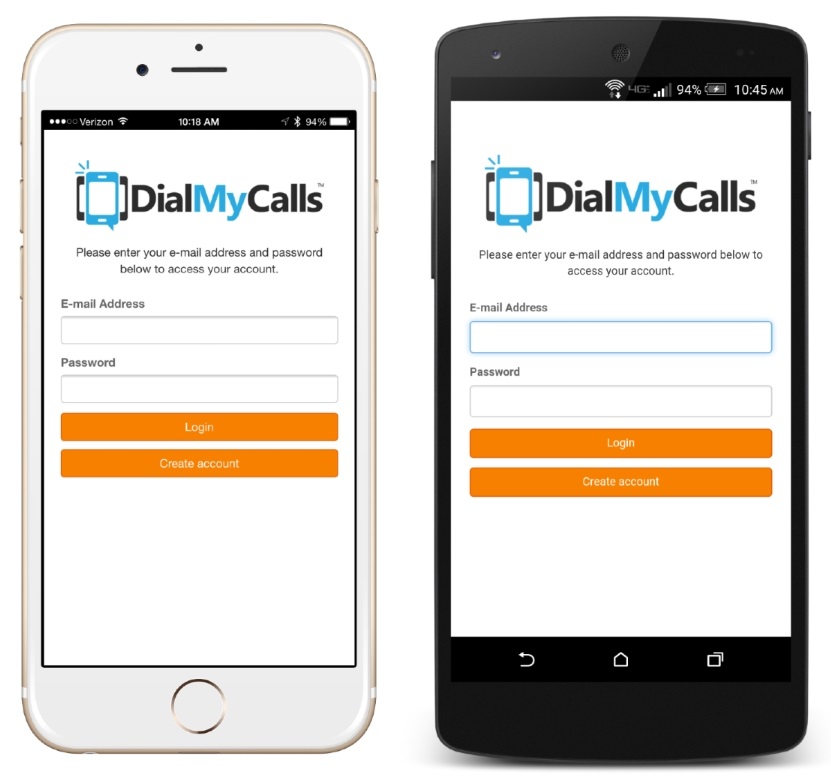 Account Overview: Upon logging into your account you will see the account overview screen. From the home screen of the mobile app you will be able to view any broadcasts that have been sent or scheduled as well as the amount of credits remaining in your account.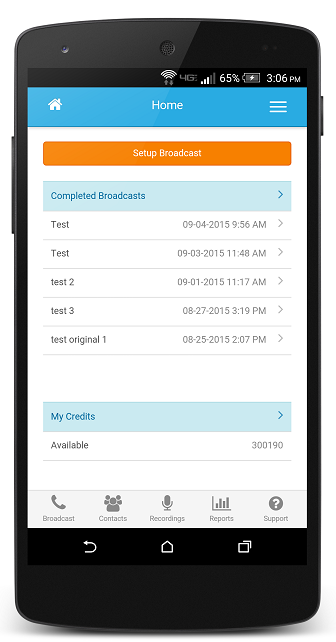 Add New Contact: Add new contacts directly into your DialMyCalls account right from within the new mobile app. Only the 10-digit phone number is required – every other field is completely optional.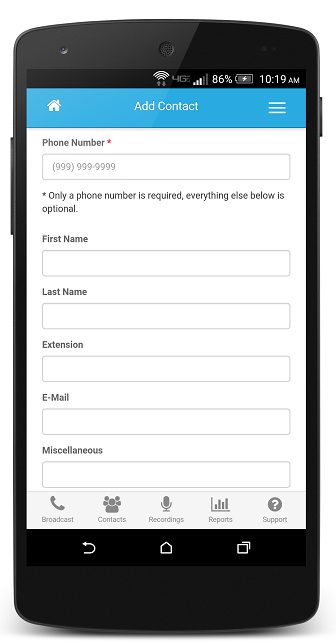 Create/Manage Contact Groups: Organize all of your contacts by creating and managing contact groups. For example, a school can create separate contact groups for faculty, parents and students and then send out messages accordingly.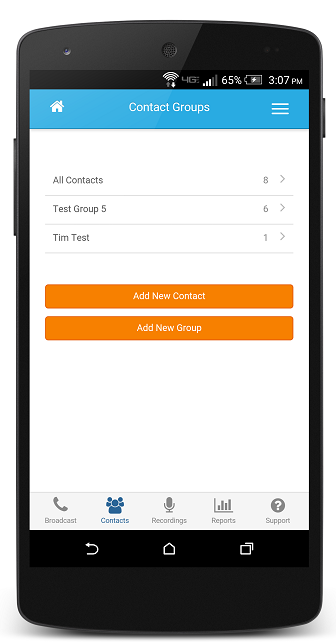 Create A New Recording: Customers can login to the mobile app and create a new recording to send out to their contacts. The DialMyCalls app offers three different ways in which a new recording can be made. Use your phone's microphone (Most Popular), have our system call your phone number and create your recording over the phone or create a text-to-speech recording. Recordings are processed immediately upon completion so that you are able to set up a broadcast without having to wait.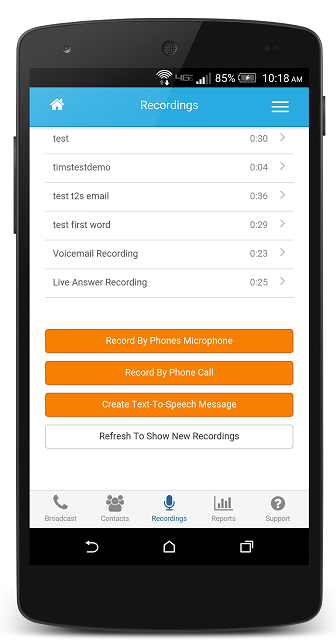 Create A New Broadcast: Customers using the new mobile app for iOS and Android have the ability to create a voice broadcast, text message broadcast or free call broadcast. The voice broadcast will allow you to send a recording out to your contacts via phone call. Sending an SMS text message will send out a message via text – only mobile phones will receive these messages. Selecting the free option will allow you to set up a trial phone call broadcast – the free service allows you to send a 30 second message to up to 25 contacts, once per week.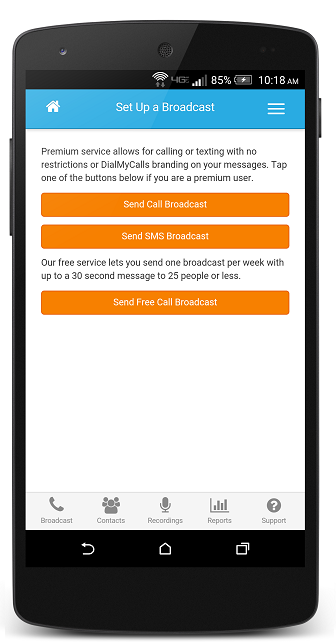 Create New Voice Broadcast: Send your contacts a SMS text message right from within the new DialMyCalls mobile app. Simply click on the "Broadcast" button at the bottom of the app and select "Send Call Broadcast". Next you will give your voice broadcast a title and then select the Caller ID that will be displayed when the call goes out to your recipients. Now you will want to select the recording that is going to be sent out and then the contacts that will receive that specific recording – click on "Schedule Broadcast" or "Send Broadcast Now" and you are good to go!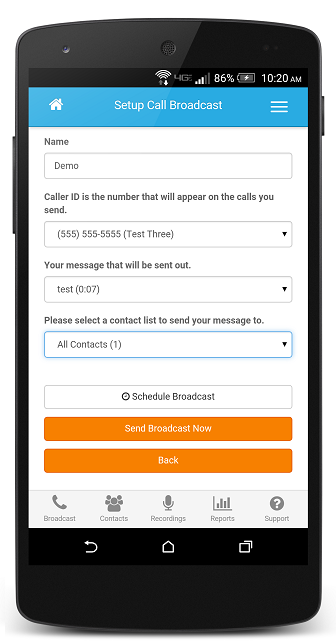 Create New SMS Text Message Broadcast: Send your contacts a mass text message right from within the new DialMyCalls mobile app. Simply click on the "Broadcast" button at the bottom of the app and select "Send SMS Broadcast". You will now select the keyword that you want to use for your SMS Broadcast [see SMS Keywords] and give your broadcast a title. Once you have selected the contacts that you'd like to send a text message to then you can choose to send it out immediately or schedule the broadcast for a later date and time.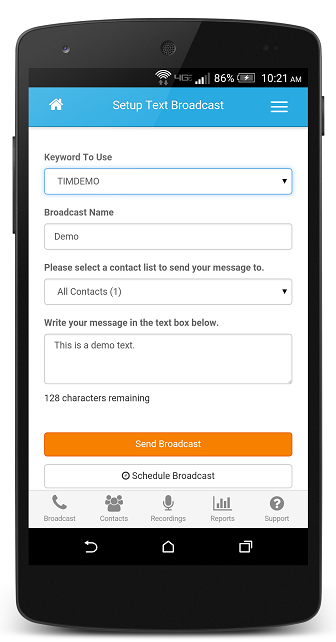 View Detailed Reports: Once a voice/text broadcast is completed you can view a detailed report to check the status of call/text that was sent out. You will be able to view the amount of contacts that the call went out to, how many credits were used, and a list of all the recipients will be displayed along with the outcome of the call/text they were sent.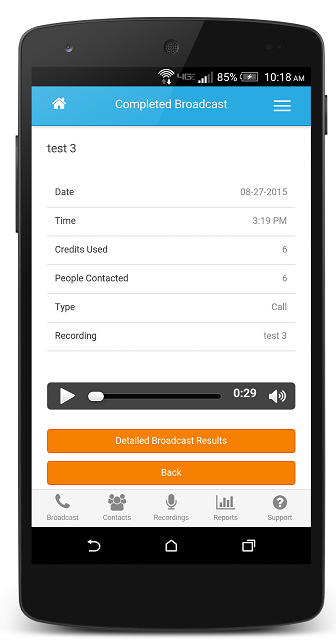 If you have any further questions regarding the new DialMyCalls mobile app for iOS and Android, please contact us.